ate it when you come in on the end of someone else's conversation? WHEE, Shafty <-- CAPTAIN CLEVAR! Perhaps in acknowledgement of Shafty's having posted news religiously every Wednesday, Kayn the Benevolent has given Shafty what he wants:
Teh Sports Attack Forum!
Hooray! Sports fans, you are finally free to weigh in on the most important issues of the day, such as:
Who's the hottest female athlete?
What's the best football video game evar?
What's the best sports-related movie evar?
Oh, and I guess we can discuss real sports, too, like HOCKEY! Where men are men, and sissy men get hit upside the head with big wooden sticks! Hooray! Shafty has long wanted a sports forum for Pluh. And Shafty
always gets what he wants
. Don't take my word for it, listen to Lando Calrissian!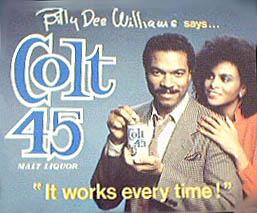 "Murph is DUMB! How many Colt 45 commercials has HE been in? NONE! He's not worth listening to or, for that matter, even sharing our oxygen!"
You know that you're in trouble when a space pirate questions your credibility. Admit your defeat, Murph, while the rest of us look at NEWS!